A mouse click speed test tool refers to calculating the mouse clicks in a particular time limit like the spacebar counter tool which we are providing. In an average time of 60 seconds or even more, a CST tool helps you to check the ability of how faster do you click and make the highest score in the given time.
What is CPS rate? The click speed is checked in this test which is known as CPS (click per second) rate. The success or loss depends on the speed of the hits.
This tools is about calculating the mouse single click in a specific time limit (double click counter is also available in case if you want to count double clicks). It helps you to check the ability, how fast you can click, and earn the score in the given time. In case if tool counter is not working, take a mouse test to check the mouse buttons.
How to Use
Using testing tool is quite simple. All you need to do is to open the tool and enter your preferred time in seconds timeframe. Once you added the time, spam your mouse click as much as you can. Just start the test by clicking anywhere in the click-frame. Once your set time is elapsed, the results will be shown in the number of hits in your preferred time (seconds and milliseconds).
Let's have a look at how can you make the most of this tool with the following simple steps.
Step 1: Select time OR type in your preferred seconds in "Enter Time In Seconds".
Step 2: Now time to bring your A-game in speeding up your clicking ability. Click anywhere in "Click to Start" field.
Step 3: Once you start clicking, the number of clicks will start appearing. (see the image below)
Step 4: Although the result is shown with a click per second (CPS) score, it is a magnitude of your clicks to a time unit. What this means is, the higher the speed of clicks per second, the higher the score. When your time runs out, you will be appreciated by the tool like this: see the image below.
Step 5: If you are not satisfied with your results, you can try again by clicking on the "Reset button" down there.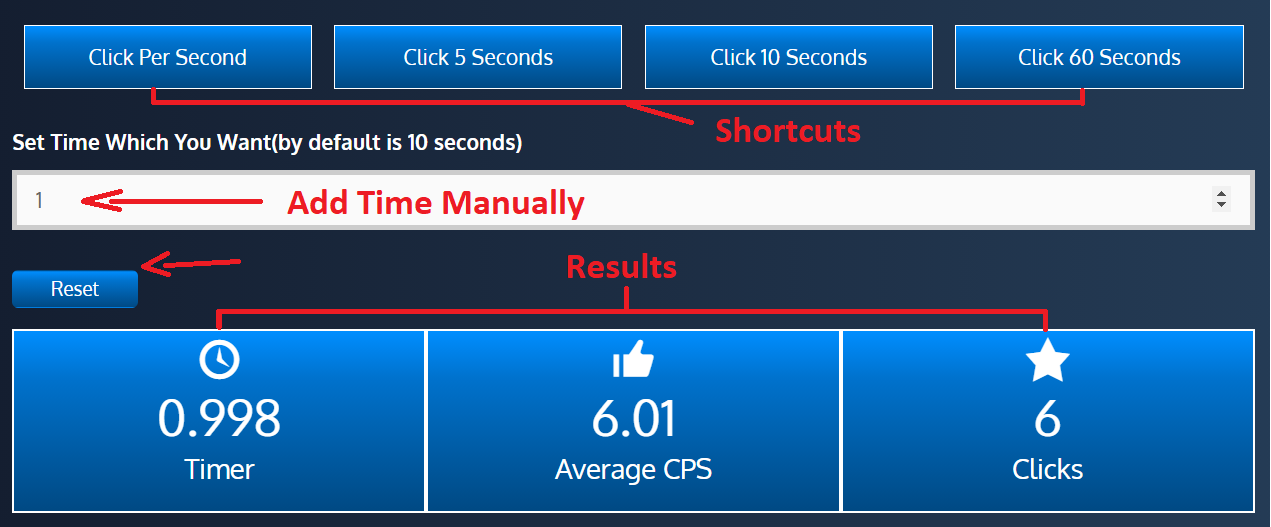 Features of the Click Speed Test Tool
As it is secure than any third-party application, the tool has the same user-friendly interface on mobile and web. There are multiple timeframe variations, e.g. 1 second to 60 seconds or even more.
There are so many kinds of computer mouse problems which require some knowledge about computers. It is no rocket science behind the technology of a computer mouse. All you have to know is the basic connections between the computer system and the mouse. To further clarify your concerns about the mouse clicking speed, let's feast on the following frequently asked questions and get the right answers.
FAQs